Place Order
After providing information in the
Check Out
page, the next step is to place your order by providing credit card information in the PayDollar dialog.
The Manifold Online Store transacts payments through the
PayDollar
service of
AsiaPay
. The Online Store will launch a PayDollar window for secure entry of credit card information. Using PayDollar has several benefits for Manifold customers:
Manifold does not handle or store your credit card information - that goes directly from you into secure payment processing. There is no way your credit card information can be lost by or stolen from Manifold, because Manifold never handles or stores your credit card information.
PayDollar / AsiaPay provides a multi-payment platform that allows customers to utilize currencies, such as Chinese Renminbi, that are otherwise difficult to transact.
PayDollar / AsiaPay provides one of the world's most technologically advanced antifraud and security platforms. Reducing fraud and increasing security lower costs to honest credit card users, which helps keep Manifold prices low for you.
Customers who have enrolled their cards in Verified by Visa or MasterCard SecureCode will automatically get the benefit of these advanced security technologies.
Manifold plans on using PayDollar / AsiaPay to extend payment options accepted by the Manifold Online Store to a very wide range of choices for the convenience of customers worldwide.
PayDollar Dialogs


PayDollar / AsiaPay use a high security SSL certificate that will turn your browser bar green to indicate the extra verification status of the SSL certificate.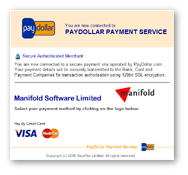 The browser bar will normally identify the certificate as PayDollar or AsiaPay, alternating with the certificate authority, VeriSign. Illustrations show Microsoft Internet Explorer - other browsers may differ.
PayDollar dialogs begin with an entry dialog allowing you to choose between Visa or MasterCard credit cards. European branded EuroCard should choose the MasterCard choice.
Choose the card you will use by clicking on either the Visa or the MasterCard logo. At the present time, the Manifold Online Store does not accept other credit cards.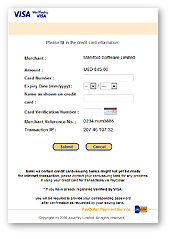 The next PayDollar dialog shows the amount to be billed and allows you to enter your credit card information:
Card Number - Enter your card number with no hyphens or spaces.
Expiry Date - Enter the month and year of the expiration date.
Name - Enter your name as shown on the credit card.
Card Verification Number - Enter the card verification number, the small number on the back of the card indicated by the red box in the illustration.
Please double-check the information and press the Submit button.
Illustrations show a browser session using Microsoft Internet Explorer. If you use a different browser or have different brower settings, the dialogs may look slightly different, or they may be slightly different as improvements are made to the Manifold or PayDollar / AsiaPay sites. You can be sure you are connected with a secure connection to PayDollar by checking the lock icon and the certificate to be sure you are connected to PayDollar or AsiaPay.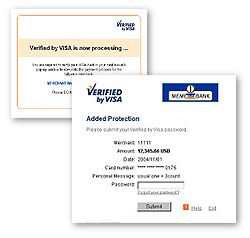 After you have entered your card information into the PayDollar dialog, if you have enrolled your card in Verified by Visa or MasterCard SecureCode the PayDollar site will launch the Verified by Visa or MasterCard SecureCode verification dialogs for your approval. Enter your Verified by Visa or MasterCard SecureCode password to authenticate the transacation and press
Submit
.
If your card transaction is approved by the payment network, you will be returned to the Online Store to view the final confirmation page for your order. If your card transaction is not approved, you may try to enter the information again in case of typographic error.
When your transaction is approved, the PayDollar dialog will provide a receipt page that you may print for your records. You will then be returned to the Manifold Online Store page, and the Online Store will send two emails to the email address you have provided. The first email will give you the serial numbers for your products, as well as any tech support tokens that are bundled in with those products. The second email will provide an invoice, that is, a receipt, for your order that you may keep for your records and print out.
About PayDollar and AsiaPay
PayDollar is the branded name for AsiaPay's multi-currency, multi-lingual, multi-card and multi-channel processing platform with advanced fraud detection and monitoring capabilities. AsiaPay is one of the world's most technologically advanced and secure payment processing technology companies in the world's most populous markets, providing advanced, secure and cost-effective electronic payment processing solutions and technologies to banks, corporations, NGOs, charities and others in global markets, providing integrated payment processing for a comprehensive range of international credit cards and popular debit cards.
AsiaPay serves as an accredited TPP processor for banks, certified IPSP for merchants, certified international 3D-Secure vendor for Visa, MasterCard and JCB, and an advanced payment gateway solution vendor for banks. Banks and institutions representing trillions of dollars in transactions have partnered with AsiaPay.
Privacy Information

Manifold is committed to protecting the privacy of customer information. We will
not
sell, exchange or lease out any customer information (including name, email address, mail address, telephone number, credit card details and transaction records) to any third party.
Security Information


The Manifold Online Store is operated by Manifold Software Limited with online transaction processing provided by PayDollar using the highest commercially available encryption technology - 128-bit SSL encryption. All confidential information is automatically encrypted before it is transmitted, to protect your confidential data from being read and interpreted. 3-D Secure authentication is also supported such as Verified by Visa and MasterCard SecureCode for exceptionally high security. PayDollar is a service of AsiaPay.
Other Help Topics
For help with ordering on the Manifold Online Store, please also click on: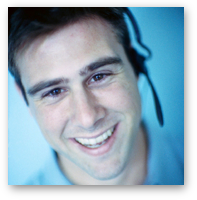 Questions?
Please do not hesitate to contact Manifold at
sales@manifold.net
with any questions about the ordering process.